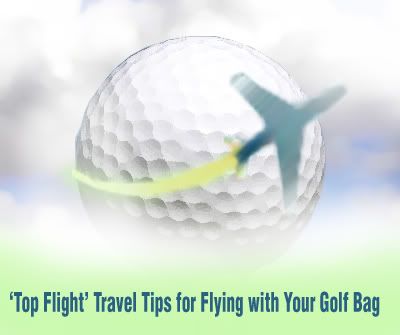 I'm Nate Schrader, and while writing for TravelProducts.com many travelers ask about how we can help them choose items for their flight. Usually headed to warm weather, it's no surprise golfers ask how we can make their golf trip better. As much as I wish we sold golf products, we don't. However, I have heard enough questions to answer some of them for you to make your next golf excursion run as smoothly as possible. (Strokes off your scorecard not included!)
1. First, WEIGH your options. You may love your golf clubs, but do you love them enough to pay the extra baggage fees at the airport? According to Airfarewatchdog.com, most airlines charge at least $20 for a second bag & $50 for the third. Calling your friend or the course's pro shop for  trial-run clubs will save you the baggage fees, and you might play with better clubs too.
2. Lose some weight. The golf bag, that is! If you do choose to fly with your bag, use a carry bag rather than a tour bag to limit your weight. Some tour bags weigh up to 50 lbs, just on the verge of becoming an "extra weight" bag with extra fees. Remember, purchasing golf balls is always an option at the pro-shop – maybe even the souvenir logo kind? If you're really unsure, tools like a portable luggage scale can help you determine when your bag weighs too much before you get to the airport.
3. Protect your bag. Once your bag is light for flight, don't hand it to the luggage crew just yet! If your clubs are steel shaft clubs, you may be fine with a softer luggage bag. To protect your clubs from getting crushed beneath plane luggage, find a sturdy, metal case with a luggage lock if needed. Remember to find one with wheels for easy transportation – you carry your bag enough on the course.
4. Tag your luggage. Suitcases are tagged with their owner's contact information, so your golf bag's should be too in case the airlines misplace it. Tag it with a colorful luggage tag for some extra pizzazz while distinguishing your bag above the rest.
5. Insure your bag. A well versed traveler will attest how unpredictable a trip can be. On sites like Travelinsured.com, a three day trip's insurance costs as low as $24 for $750 worth of luggage. $24 for peace of mind that if all else fails, you'll still come out with a set of golf clubs? Well worth it.
For you travel pros out there, this article may be review, so feel free to add other helpful comments below. Thanks for stopping in, and I hope you feel a little more prepared for in-flight golf travel so you can focus on the more important thing: preparing for your next match!
Bio: Nate Schrader, writer for TravelProducts.com, enjoys writing about anything related to travel to help his readers get the most out of their travels. In his spare time, he likes to run marathons, read outside, and find a little peace on the golf course  🙂
Related Posts: