The More Average We Are, the More We Need a Recovery Game
For the bulk of my life, I have watched the single greatest lesson in golf go by again and again – and it still goes right over my head every time. For hundreds of tournaments watched over the decades, I have jumped to conclusions when I see a contender going off the fairway, and more than once, off the course. "Oh, he's finished," I say. A quick trip to the refrigerator and back with a stack of goodies for the last few holes, and I see to my amazement that my guy has returned, even birdied the hole from what appeared to be a shot from the downtown bus station. His recovery seemed fantastical, but it wasn't for a pro.  He simply had to switch strategies to earn that birdie – and he had one.

I had a parallel opportunity to learn these lessons in my own family, with a sibling that went where few go…to scratch. When he was on, he hit the driver as well as anyone else I knew, but the driver can be the wild child in the bag, with so much room to stray and so much distance with which to do it. There were days when my only advantage with a driver was that I couldn't hit it very far. But, when my brother's driver was disobedient, he explored parts of the United States I didn't know existed. His last words upon leaving the tee box were, "Meet you on the green." I took that backward. I thought I would work my way up the fairway, or at least close to it, get on, and wait for him to appear. Invariably, about 100 yards from reaching the green, I'd hear a crack from far behind and off to the side. A ball would come sailing over the water, between or over the tops of trees, followed by plumes of dirt or sand blowing across the fairway from the rough. The result – putting for birdie from 10 feet. He wasn't impressed. He just wished his driver had gone straight. Then maybe he'd be putting for birdie from three feet. It was among the most remarkable recovery games I've seen in my circle through the years, and it was reliable to a fault.



Those of us with moderately high handicaps have generally not studied recovery as a part of the game. We've gone to the range in an attempt to make a full bucket of balls go to the same place. We've putted all the normal putts on the practice green, and we have worked the fringes of the neat and tidy chipping green at the local muni. But, we have not studied recovery. I could have been paying attention. If I had, I would have taken a different group of clubs to the range, and I would have found opportunities to find troubled lies from which to practice.
Recovery is not in our physical game, at least not for most of us. It's also missing from our golf brains. We approach the round with so much hope that when disaster strikes, we view the shot as a ruined day, and a ruined score. We didn't emphasize iron accuracy as much as we should have, and we didn't spend enough time studying what are trick shots to us – the low two-iron under the branch, the scuff off of hard pan, the sky shot over pines, firs, and maples. They are, I am told, all different. To me, they were just trees. The pro, possessing the means to recovery, never has to give up. That accounts for Bubba Watson's looper through the trees and over to a seemingly unplayable green to win the Masters. These shots are fortunate, but not just lucky. The pros know how to play them.
The giving up problem is made all the more painful by our knowledge of our own track record. My brain expresses itself clearly – "Hit it over there, and you don't know how to get out," or "score a seven here, and you might as well go home." We have trouble with emotional recovery as well. So, I'm going to put the driver away for a time this summer. It's never going to be 100% obedient, as Tiger can confirm after missing eight in a row today at the Farmers but still shooting 70. I'm going to practice getting out that box canyon, if I can find one. I'm going to play around with that horrible hogback on the green, and I'm going to make the forest a firing range until I can get out of it. It seems like a good step to add an important component to my game, and to start changing my personal psychology on the course.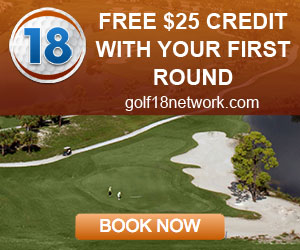 Related Posts: